Bustling Bangkok
Vast, intensely busy and full of remarkable juxtapositions, Bangkok is a fascinating and beautiful place. Known by the locals as the City of Angels, the name is actually an abbreviated version of a list of superlatives that King Rama I bestowed on his new city - making the full version the longest place name in the world.
Located in one of Bangkok's tallest towers, on the west bank of the Chao Phraya River, our stunning apartment is in the perfect location to experience the absolute best of this city.
Your Property Manager recommends.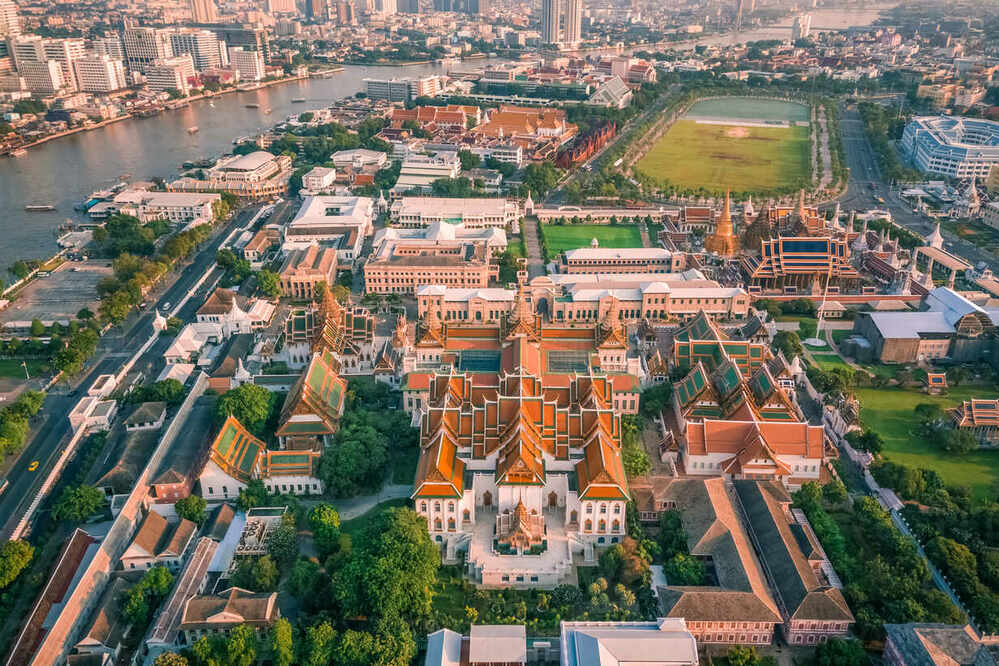 City Tours
Travellers can glide along Bangkok's intricate canal system, famously known as the "Venice of the East," to discover hidden gems, traditional communities, and experience the authentic local way of life. With a personalised experience tailored to individual interests, expert guides accompany guests, revealing vibrant floating markets and canal-side temples. Indulging in authentic local cuisine further enhances the journey.
Discover Bangkok by a helicopter tour, offering a unique and breath-taking perspective of the city's most iconic landmarks. Marvel at the splendid Grand Palace and behold the mesmerizing Wat Arun, known as the Temple of Dawn, casting a golden glow over the Chao Phraya River. Witness the vibrant streets below, teeming with life, and get a true sense of the bustling energy of the metropolis. With skilled pilots ensuring a safe and comfortable journey, travellers can relax, capture stunning aerial phots and enjoy the insightful commentary about the landmarks.
Shows & Culture
Experience the electrifying Muay Thai Live Show in Bangkok, where you'll witness the thrilling fights and acrobatic stunts of Thailand's national sport. This top-rated performance showcases the ancient martial art with raw power, precision, and agility.
Erawan Museum
The Erawan Museum is a unique and fascinating attraction in Bangkok, known for its grandeur and opulence. The museum's most prominent feature is a striking three-headed elephant statue that towers over the surrounding landscape. Visitors can explore the museum's extensive collection of art and artifacts, ranging from ancient religious relics to contemporary works of art. For those seeking a truly unique and immersive cultural experience, the Erawan Museum is a must-visit destination in Bangkok.
Landmarks
Discover the splendour of the Grand Palace complex and the Temple of the Emerald Buddha. Immerse yourself in the awe-inspiring beauty of these iconic landmarks, where history and culture come alive.
Explore the iconic Wat Pho, home to the massive and awe-inspiring Reclining Buddha statue. Immerse yourself in the temple's serene and spiritual atmosphere, adorned with ornate details and intricate architecture. Experience a traditional Thai massage at the temple's renowned massage school, where skilled therapists provide a healing touch that will leave you feeling rejuvenated and relaxed.
Shopping
Indulge in a world of luxury at Siam Paragon, one of Bangkok's premier upscale shopping centres where you will find all the big brands in designer fashion. Delight your taste buds with a culinary journey through gourmet food options, and immerse yourself in entertainment choices that range from cutting-edge cinemas to live performances. Siam Paragon promises an unrivalled shopping experience that combines opulence, style, and endless possibilities.
This 10-story mega lifestyle complex, perched across the renowned Chao Phraya River is within walking distance from your apartment. Icon Siam is known as the most modern shopping entertainment hall in South East Asia - vast, stylish with hundreds of high-end shops & restaurants, plus an indoor floating market.
Bars & Restaurants
Sky Bar - Rooftop Bar: Immerse yourself in the elegant ambiance of one of Bangkok's most luxurious rooftop bars, with panoramic vistas of the city. Whether you're seeking a romantic setting or a night out with friends, this elevated experience promises an unforgettable evening of indulgence.
Nahm: Discover the flavors of authentic Thai cuisine with a contemporary touch at Nahm, a Michelin-starred restaurant known for its refined dishes and elegant ambiance.
Gaggan: Indulge in a culinary journey at Gaggan, a renowned restaurant offering progressive Indian cuisine with a modern twist.
Mezzaluna: Exquisite contemporary European dishes paired with beautiful views of Bangkok's skyline at Mezzaluna, situated on the 65th floor.
Thip Samai Pad Thai: Relish in the iconic Thai dish of Pad Thai at Thip Samai.
Taling Pling: Authentic Thai flavors in a cozy restaurant known for its traditional dishes made from quality ingredients at reasonable prices.
Night Market
Rod Fai Night Market in Bangkok is a bustling open-air market renowned for its diverse food offerings. Visitors can savour a wide variety of Thai street food, seafood, and international cuisines. From delicious bites to refreshing beverages, the market is a food lover's paradise, providing a unique culinary experience in the vibrant streets of Bangkok.
Spas
The Oriental Spa at The Mandarin Oriental is a sanctuary of tranquillity and relaxation located in the heart of Bangkok. This world-renowned spa offers an extensive range of treatments, from traditional Thai massages to signature spa therapies, all designed to promote physical, mental, and emotional well-being. Indulge in the ultimate pampering experience with the spa's signature treatment, the Oriental Signature Spa Therapy, which includes a Thai herbal steam, body scrub, and massage. With its luxurious ambiance, expert therapists, and holistic approach, the Oriental Spa is the perfect place to unwind and rejuvenate in Bangkok.
Additional Services
Private Yoga and Meditation Instructor
Elevate your well-being with a private yoga and meditation instructor, available to come to your apartment in Bangkok. Experience the ultimate relaxation and rejuvenation as you indulge in personalised sessions tailored to your needs. Let the instructor guide you through invigorating yoga poses and calming meditation techniques, promoting balance and inner peace. Please contact your Personal Concierge for more details.
Private Cooking Class
Cooking class with Anantara. Learn how to make traditional Thai dishes in this fun and interactive cooking class. Please contact your Personal Concierge for more details.