Île Saint-Louis
At the tail end of Île Saint-Louis, a popular location for visitors, your new apartment is located on the ground floor of a late nineteenth century building offering beautiful views of the arcade of Hotel de Bretonvilliers. At 82 square metres, with access to an internal courtyard, this 2-bedroom apartment is a quaint Parisian pied-à-terre featuring ornate ceiling cornicing and original parquet flooring. The main living area overlooks a quiet street with the view of the arcade of Hotel de Bretonvilliers and all other rooms have views of a well-maintained internal courtyard.
The 4th Arrondissement (including the Beaubourg, Marais and Île St-Louis neighbourhoods) is a favourite amongst tourists and locals for a very good reason. Not only does it house some of the city's most important and beloved historical sites, including Notre Dame Cathedral and the elegant Place des Vosges, but it is also the heartbeat of contemporary Paris. Harbouring several bustling and stylish neighbourhoods, this area attracts artists, designers, trendy shopkeepers and students alike. The 4th Arrondissement is considered a premium destination within Paris and we are certain you will enjoy the scenic surroundings, and the ability to access the heart of Paris by foot.
Meet the Property Manager
Gallery
This stylish 2-bedroom apartment is located in the 4th Arrondissement in the centre of Paris in Île Saint-Louis. Île Saint-Louis first known as the Île Notre-Dame, is eleven hectares in size with a population of 4,453. It is one of two natural islands in the river Seine (the other being Île de la Cité, where Notre-Dame de Paris is located). Île Saint-Louis is connected to the rest of Paris by four bridges to both banks of the river and to the Île de la Cité by the Pont Saint-Louis. Île SaintLouis has many beautiful streets full of impressive buildings of high architectural value (some dating back 4 centuries) creating the atmosphere of a French village.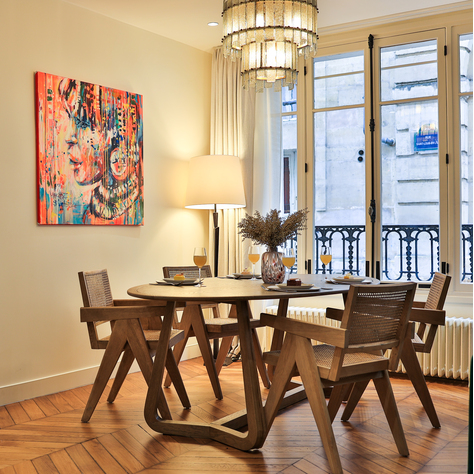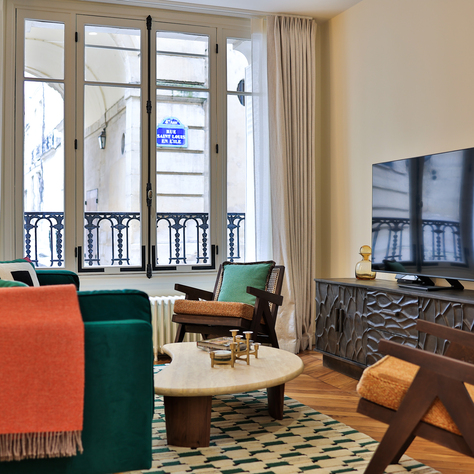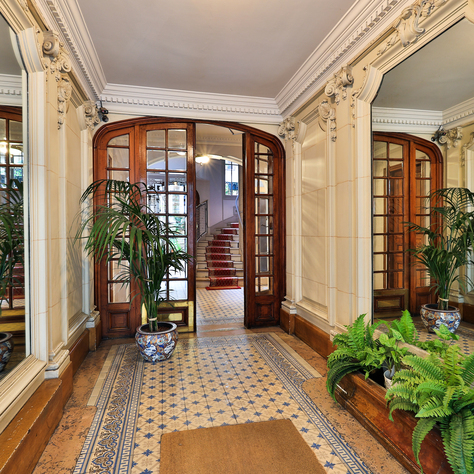 City Collection
Owned property
2 Bedrooms / Sleeps 4
Transfer: Eurostar Terminal – 30 mins
Paris-Charles de Gaulle Airport – 40 mins
Paris-Orly Airport – 30 mins
Great For: City Break
Features
Classic Parisian Pied de Terre at 82m2
Two ensuite bedrooms, sleeping a maximum of 4 guests
Flat screen TV with access to Canal+, Apple TV and Chromecast
A multi-purpose working space
Fully equipped kitchen
Minutes from Notre Dame Cathedral and the elegant Place des Vosges
Very close by to local shops and Le Marais
Luxury linens
Hyrdocotton towels and bathrobes
Tablet, printer and Wi-Fi access
L'Occitane Amenities
Selection of family games
Floorplan
Floorplan
Paris
The 4th is a large arrondissement that spans many different neighbourhoods, including "Beaubourg" around the Centre Georges Pompidou, the Marais and the Ile Saint-Louis, an idyllic area between the right and left banks of the Seine that affords beautiful views of the water and Notre-Dame Cathedral. Other attractions include the picturesque Place des Vosges and the Musée Carnavelet, dedicated to the history of Paris.
Read the area guide
You May Also Enjoy These Properties