Ion Adventure Hotel (HotelSwaps)
Fire and ice. Hot and cold. An abandoned inn turned boutique hotel in Iceland. Ion Adventure Hotel is where modern design meets Iceland's incomparable natural landscape. Situated in the south-western town of Selfoss, near a national crossroad making the hotel accessible to various parts of the country, Ion is conveniently located to offer guests the best of Iceland. From the volcanic marvels of Mount Hengill to the urban sophistication of Reykjavik nearby, the unique landscape plays a pivotal role in the rich design of the hotel, which leans heavily on sustainable practices and the natural features of the island.
How to book
Register as a HotelSwaps Guest Member. Make sure to write "THC" in "How did you hear about us?".
Find the hotel and time you would like to book and check the number of HotelCoins required.
Contact your Personal Concierge to convert your City Nights or Classic Points to HotelCoins and these will be transferred to your personal guest account on HotelSwaps.
Complete your reservation on the HotelSwaps website.
If your dates are not immediately available at your preferred hotel, please send them a reservation request. Hotels usually respond within 2-3 working days however in some cases it may take up to 7 days.
For further information, please click here.
Gallery
Based in a location where fire meets ice, Ion offers eco-conscious luxury and an unrivalled opportunity to explore the best of Iceland. Throughout 45 rooms, guests can expect a mellow mix of concrete chic and earthy ambiance, combined with the warm accents of locally salvaged driftwood and lava; all deftly handled by design studio Minarc. Beyond this, the farm-fresh cuisine at Silfra Restaurant & Bar, view-heavy Northern Lights Bar, and partially exposed Lava Spa all ensure that visitors have the ultimate Icelandic experience before even stepping foot outside.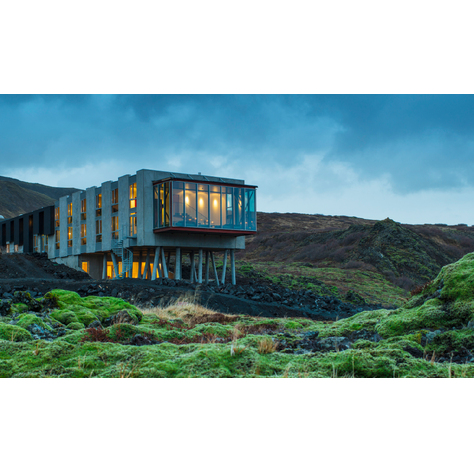 Classic Collection
Partner property
1 Bedrooms / Sleeps 2
Transfer: Keflavík International Airport (RKV), 1h 14 min drive
Great For: Adventure
Features
Restaurant and bar/lounge
Full-service spa
Outdoor pool
Fitness centre
Air conditioning
Free WiFi and free parking