Villa Grasse, Provence (Banyan Tree)
This three-bedroom Provençal farmhouse is nestled in Grasse, the world's capital of perfume. It's a wonderful base from which to see Grasse's Cathedral, the monumental gate of the Hôtel de ville and the Musée d'Art et d'Histoire de Provence as well as explore the rest of wonderful Provence.
A stay in this stuning second home in Provence offers a wide variety of indulgent and memorable experiences. In August, join the revellers at the annual Fête du Jasmin or La Jasminade. Colourful floats are paraded through town while garlands of jasmine decorate the town centre and the fire department fills a fire truck with jasmine-infused water to spray on the crowds. In addition to the festivities, there are also fireworks, street performances and parties.
Your concierge can book cookery lessons, floral arrangement classes, a tour of Fragonard Perfumer's workshop, and a tour of the beautiful Villages de Provence with its quaint boutiques, restaurants and local producers.
If it all gets too much, head back to your luxury property in Provence, and soak in the sun by your private pool as your French chef prepares a dazzling Provençal dinner for you and your guests and family.
Gallery
Set in handsome Provence with its fragrant meadows and the sparking Mediterranean Sea, Villa Grasse is a traditional Provençal farmhouse with a honey-hued façade and mint green shutters. Nestled in Grasse, the world's capital of perfume, this piece of luxury real estate in Provence is close to local attractions such as the Cathedral and the International Museum of Perfume and is within easy reach of all the wonders of the region.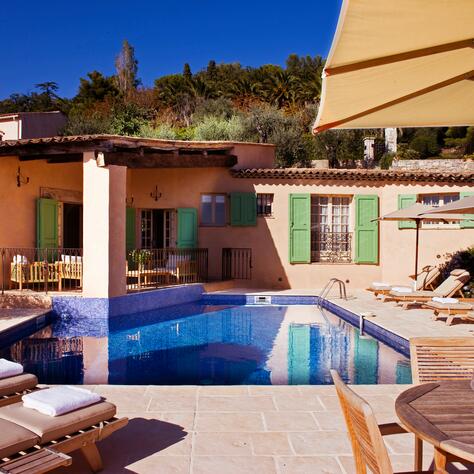 Classic Collection
Partner property
3 Bedrooms / Sleeps 6
Transfer: From Nice International Airport - 35 mintues
Great For: Country Retreat / Adventure
Features
Three bedrooms and a study room with a sofa bed, sleeping seven guests in total
Fully fitted kitchen
Barbeque
Private swimming pool
Open air patio
Private parking and garage
Air-conditioning
Wireless internet connection, radio, DVD player, LCD TV with Sk
You May Also Enjoy These Properties