Villa Ombak
This contemporary Balinese villa sits high on a cliff top, overlooking the ocean. If the dramatic view looks familiar, it's probably because scenes from the Hollywood version of Eat, Pray, Love, starring Julia Roberts, were filmed on this very spot.
The magnificent four-bedroom villa benefits from a stylish pool area with wooden decking, while scattered across the grounds are a number of separate seating areas, including a cliff-top gazebo from which you can enjoy the sunset, and a beautiful fire pit with seating for later in the day. Set slightly apart from the pool is a massage sala where you can arrange to have treatments fanned by the sea breeze.
The villa's spectacular location puts it within easy reach of the island's main attractions: its pristine, white sand beaches and two of Lembongan's finest beach clubs, Dream Beach and Sandy Bay, are just a few minutes' walk away. The lively village of Mushroom Bay is just a little farther along the coast.
Please note: Nusa Lembongan is a largely undeveloped island and would suit Owners with an adventurous spirit as some amenities/services such as large supermarkets, paved roads and taxis are not available at this destination. This property is not recommended to those with limited mobility. We strongly advise to reserve a flight that arrives prior to 14:00 for the last transfer from Bali to Lembongan.
Meet the Property Manager
Gallery
Villa Ombak is located on the southwest coast of the tiny Balinese island of Lembongan. One of the island's three main villages is minutes away from this Club Home, while two of its best beaches are closer still. If you're after peace and quiet in unspoilt surroundings, this is the place to find it.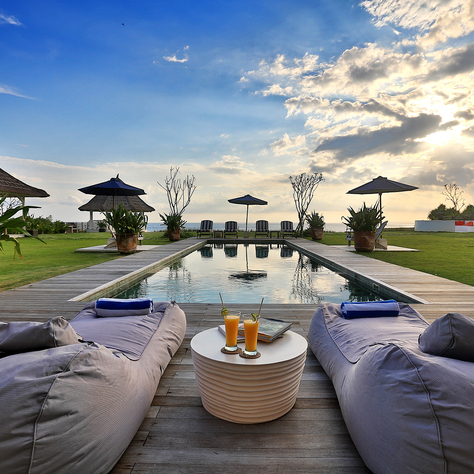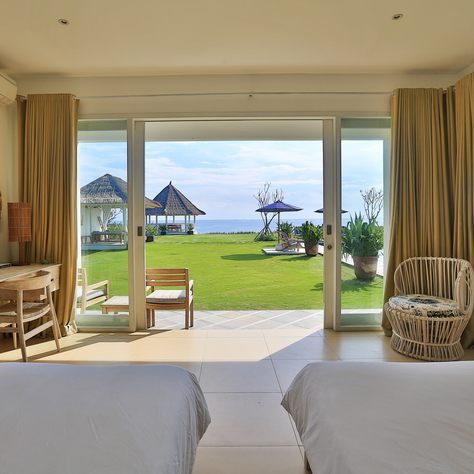 Classic Collection
Owned property
4 Bedrooms / Sleeps 8
Transfer: From Bali Denpasar Airport - 120 minutes
Great For: Adventure / Beach / Diving
Features
Four bedrooms, sleeping eight guests, all with en-suite bathrooms and stunning sea views
Open plan fully stocked kitchen
Home theatre system
Swimming pool (non-heated)
Outdoor dining sala overlooking the ocean
Massage sala
Open fire pit
Landscaped gardens
40 minutes by boat from Bali
Audio-visual equipment, including Flat screen TV, DVD player, iPod music system and PlayStation 4 game console
Tablet, printer and Wi-Fi access
Paperback library, and a selection of toys and games for young children
Luxury towels, pool towels and bathrobes
Selection of toiletries
Baby cots and highchairs
Cleaning staff available (In-House Catering not available for this destination)
Floorplan
Ground Floor
First Floor
Nusa Lembongan
Nusa Lembongan is one of three beautiful tropical islands off the southeast coast of Bali. Though only 30 minutes away by boat and not exactly undiscovered, Lembongan is the polar opposite of crowded southern Bali. There are no hawkers, no nightclubs, no traffic jams, indeed no traffic - just powdery white beaches lapped by crystal-clear waters, mature mangrove forests and low limestone cliffs.
There is plenty to do here, from snorkeling, diving and surfing to walking the myriad of paths that crisscross the tiny island. There are also a number of excellent spas and restaurants. And if you fancy a change of scenery, you can always cross the suspension bridge slung across the channel between the island and neighbouring Nusa Ceningan.
Read the area guide
You May Also Enjoy These Properties