Asmara
This beautiful five-bedroom home in Bali - set in tropical grounds - is designed in the style of a Balinese temple compound, with separate, smaller pavilions centred around one large, open-sided 'wantilan' or main pavilion. Two of the pavilions, hidden among palm trees and flowering shrubs, serve as exquisite, private bedroom suites; another pavilion houses the villa's spa.
The lush, manicured gardens are criss-crossed by stone paths leading to pretty fishponds with water features, or to shady nooks where you won't be disturbed. The elegant swimming pool, furnished with chic, contemporary sun loungers and parasols, resembles a traditional reflecting pool and is overlooked by a giant Buddha head.
There's a gorgeous beach five minutes away from the villa; a world-class golf course, with three spectacular cliff-top holes, is also close by. And while Canggu boasts several excellent places to eat, Seminyak, with it fantastic array of bars and restaurants is only 15 minutes away.
Meet the Property Manager
Gallery
This ironwood, five-bedroom villa in Bali is designed in the style of a Balinese temple compound, with separate, smaller pavilions centred around one large, open-sided 'wantilan'. Set among emerald rice fields, near the village of Canggu on Bali's south coast, Villa Asmara is close to the popular resorts of Kuta and Seminyak, and only a 40-minute drive from Ubud, however its location still offers a glimpse of Bali in the days before tourism - peaceful, spiritual and welcoming.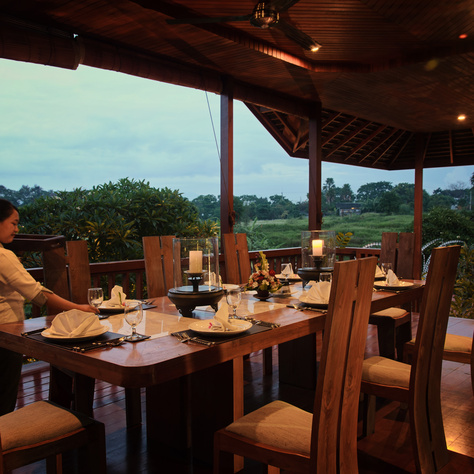 Classic Collection
Owned property
5 Bedrooms / Sleeps 10
Transfer: From Bali Denpasar Airport - 40 minutes
Great For: Adventure / Reach / Golf / Diving
Features
Gated entrance and separate staff parking
Live-in staff who are available to cook, clean, iron and launder as required
Beautifully manicured gardens with trees and shrubs in flower all year round
Pool (non-heated) with surrounding sun deck
A stand-alone spa building suitable for two people
Cinema room
Tablet, printer and Wi-Fi internet access
Five spacious air conditioned bedrooms (two of which are in self contained garden pavilions) all with en-suite bathrooms, sleeping ten
Open plan living with a dining area overlooking the rice fields and an outdoor dining area in the garden
Audio-visual equipment, including Flat screen TV, DVD player, iPod music system and PlayStation 4 game console
Selection of toiletries
Floorplan
First Floor
Ground Floor
Bali
Bali is famous for its white beaches, emerald rice fields, temples, active volcanoes and volcanic lakes. But choose the wrong destination, and you'll find it crowded and chaotic. Canggu is a village on Bali's southern coast, and though it's only 10km from the holiday hotspot of Kuta, and boasts one of the island's best surfing beaches, the area remains pleasingly unspoilt by mainstream tourism.
Read the area guide
You May Also Enjoy These Properties