Villa Steenberg
Built in typical Western Cape farmhouse style, with whitewashed walls, shuttered windows, and a wide, covered patio, Villa Steenberg is part of an exclusive gated development on the oldest wine farm in the Cape Peninsula. Residents of Villa Steenberg have access to the estate's superb award-winning winery, five-star hotel, a luxury spa, an 18-hole championship golf course and a club house.
Villa Steenberg sits in an enviable plot opposite one of the course fairways. This property in South Africa offers three distinct outdoor areas: a courtyard, a lawned garden and a pool terrace surrounded by a wall for privacy.
The villa particularly appeals to golfers. Known for its hybrid plan, the course offers traditionalists the opportunity to 'bump and run' in the rough around the greens, and to meet the challenges of strategically placed bunkers and water hazards. On the other hand, there is so much to do and see in and around the estate, not to mention in the wider area, even the most enthusiastic golfers might have trouble finding the time to tee off.
Meet the Property Manager
Gallery
Villa Steenberg is a beautiful, three-bedroom Club Home in the heart of the renowned Steenberg Golf and Wine Estate. The prime position of this villa in South Africa's Western Cape gives it easy access to Cape Town and all of the region's top attractions, from the iconic Table Mountain to the Stellenbosch Wine Route.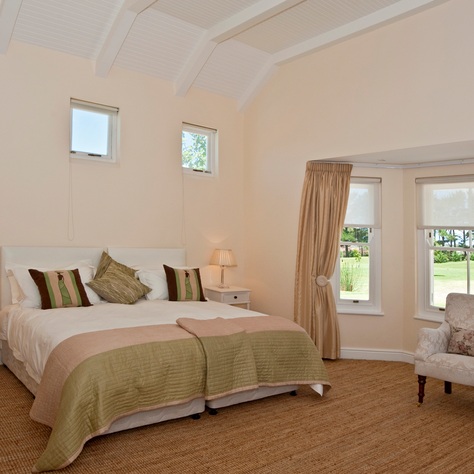 Classic Collection
Owned property
3 Bedrooms / Sleeps 6
Transfer: From Cape Town International Airport - 30 minutes
Great For: Adventure / Beach / Country Retreat / Golf / Diving
Features
Light and airy villa located in the heart of the Steenberg Estate
Three bedrooms, sleeping 6
All bedrooms with en-suite bathrooms or shower rooms replete with large freestanding baths
Open plan living and dining area with access to covered patio space overlooking the garden
Three outdoor areas featuring a courtyard, a garden area and a private patio around the private heated swimming pool
Tablet, printer and Wi-Fi access
Flat screen TV, DVD player, iPod music system and PlayStation 4 games console
Air conditioning throughout
24-hour security within the gated estate
Ideally located opposite the fairways of the world class Steenberg golf course
Floorplan
Ground Floor
Steenberg
The Steenberg Estate is set among the rolling vineyards of the Constantia Wine Valley, on South Africa's Western Cape. The Cape is one of the country's most beautiful regions, offering long stretches of sandy coastline, sun-drenched vineyards and wild, rugged mountains.
Read the area guide
You May Also Enjoy These Properties